Sensitive and Compassionate End-of-Life Care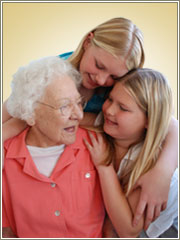 Hospice was like a blessing to me. Without their help, I would not have been able to care for my husband at home.
A surviving wife
Companion Hospice is a special concept of care designed to provide comfort and support to patients facing a life limiting illness and their families. Our services are provided in your home, a long-term care facility, or an assisted living facility.
Hospice is not about giving up or losing hope; rather hospice is focused on the quality of life remaining. Hospice neither hastens nor postpones death; but rather affirms life and regards dying as a normal part of the life process.
For many, the lack of a clear understanding of what happens during the final stages of life can be uncomfortable, even overwhelming – talking with doctors, understanding how medications work, juggling family schedules, and living with a variety of emotions can be quite stressful.
Companion Hospice staff will be there, explaining the process, and addressing the physical, emotional and spiritual concerns, while assisting patients and their families throughout this journey.
About Our Agency
Companion Hospice is an Oklahoma owned and operated company. We are licensed by the State of Oklahoma and are certified by Medicare. We offer an individualized plan of care provided by an interdisciplinary team of skilled professional and trained volunteers.